Home
About the Co-op

Why Recycled?

Why Join?

FAQs

Newsworthy

Get Involved

Our Newsletter

Testimonials

Your Feedback

Green Links

Contact Us

Terms & Conditions
June 2004
You Make the Recycled Products Cooperative Possible!
This newsletter comes to you at a challenging time in the paper industry. Never before in our 5 years have we seen such rapid price increases and supply shortages. It is also a time of some promise and opportunity. For example, 100% post consumer recycled has never been more competitively priced or of such high quality. In this time, as always, we are deeply grateful for the support of our loyal members. Your commitment to our program and the environment has made a significant impact, enabling the Co-op to grow and diversify our services while saving many thousands of trees. In the broader picture, your purchases have helped recycled paper become cost competitive with virgin fiber for the first time. We thank you!


---
PAPER PRICES CONTINUE TO RISE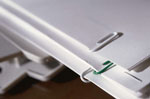 In the midst of escalating paper prices and a supply shortage, the Recycled Products Cooperative remains aggressive in our commitment to the environment and our members. Since mid-February, the average cost of virgin fiber and 30% PC (post consumer) recycled paper has increased more than $3.00 per case, with predictions of two more increases by the end of the calendar year. Despite three industry wide increases so far, the Co-op has remained competitive by limiting our case price increase to $1.00. However, with prices scheduled to go up again on July 1st 2004, the Co-op will also be forced to pass on an additional increase. Please call for an updated quote if you have not already received one.


---
PAPER IN SHORT SUPPLY - STOCK UP NOW!

There are numerous reasons for the price increases, but a critical supply shortage is considered most significant. In reaction to last years struggling economy, the industry saw several mills shut down and others have cut back production. As jobs disappeared so did the demand for paper. Conditions have now changed. Demand for almost all printing and writing papers began to pick up sharply late in the first quarter of 2004. With an improving economy in an election year, which affects both the build up in the economy as well as the increased paper use for the election itself, the paper industry is actively trying to catch up. Exports have risen and imports have fallen because of the weak U.S. dollar, resulting in very tight supply. Prices are generally rising from what the industry considered very depressed levels.

Despite efforts to increase paper production, there remains an additional challenge for the 30% PC producers. Since recycled still accounts for only about 5% of the overall copy paper market, concentration is focused on the production of virgin paper first. Recycled paper is taking a back seat as the big mills focus on increasing production of virgin fiber paper until they can get back up to speed.

We thank all our loyal Co-op members for sticking with us in these trying times. The Co-op has turned down multiple truckloads of new business in order to keep our existing customers stocked. Until supply conditions improve, we will not bring on any new customers and are reserving the existing supply for our current and loyal members.

https://recycledproducts.org


---
NOW IS THE TIME TO SWITCH TO 100% RECYCLED

Image Our 100% PC product has only had one price increase, compared to three for 30% PC, although there is some indication that a couple more increases are possible before the end of 2004. Ironically, the rising cost of 30% recycled has helped close the price gap between 30% and 100% post consumer recycled paper. Since there is no longer a significant cost difference in some quantities and supply is not as limited, many folks are beginning to purchase 100% PC recycled, recognizing the huge environmental benefits.

Understanding the virtues of 100% recycled paper and making the decision to use it is an important step in the conservation of natural resources. The Co-op recognizes the significant impact 100% recycled can make in the world and is diligently pursuing the most favorable supply terms and services possible for our members.


---
MEMBER PROFILE
Ikea was founded on the concept of offering well designed home furnishing products at low prices to help people live a better life at home. With over 190 stores in more than 30 countries, Ikea recently started purchasing 30% post consumer recycled paper from the Co-op. "We were motivated to purchase recycled paper to help close the loop," says Mark Lonegra, when asked why he made the decision to join the RPC . "We have specific goals to purchase a fixed number of eco friendly products in each store, but remain very cost conscious. That makes us a good partner to the Co-op, for that is the goal of the Co-op, to provide economical options with sustainable products." Thank you Ikea for your support!
Visit IKEA's website


---

Welcome New Members!
Member participation is what enables us to continue our
work to increase the use of recycled paper nationwide.
We'd like to extend a warm welcome to all of the
following new members…

Aveda Corporation
CA State Water Resources Board
Center for Judaic Studies
Central Oregon Environmental Center
City of Berkeley, CA
Earth Circle
Environgentle
Gay and Lesbian Advocates and Defenders
Hope International University
Ikea
John Kerry for President National H.Q.
Loopy Lupine Recycling Products
Lyon & Associates
Merrill Corporation
Michigan State University
Napa State Hospital
NODC – VA Indiana
OB Peoples
Philadelphia Eagles Football
PlantSoup
San Diego Earthworks
The Nature Conservancy – San Diego
U.C. Berkeley
Urban Corp of San Diego
USAopoly
Whole Foods Market - Mid-Atlantic
Whole Foods Market - Midwest


---
NATURAL RESOURCE SAVINGS

Image Since the program began in 1999, members have purchased over 245,000 cases of recycled (30% post consumer) paper. This has saved the equivalent of 46,000 trees, 13,500,000 gallons of water, 7,900,000 Kilowatt-hours of electricity, and has kept 115,500 pounds of pollution from our air.


---
Conservation Tips Reducing Paper Use

The average American office worker is estimated to use a sheet of paper every 12 minutes—a ream per person every two and a half working weeks—and to dispose of 100-200 pounds of paper every year. Listed below are some suggestions for saving resources and money:

1. When copying documents, using the duplexing feature to copy on
both sides.
2. Save paper that has been printed on one-side and print in-house
documents on the unused side or use for scratch paper.
3. File documents electronically and back up on a zip disk or cd.
4. Post staff notices on bulletin board instead of printing
5. Distribute reports and manuals electronically.
6. Use an electronic purchase order process
7. Conduct an internal audit to identify additional opportunities for
reducing paper consumption.
To view a comprehensive paper reduction report, visit Forest Ethics.


---
Resources:
Listed below are links to websites with valuable information for business and public agencies:

EPA Office of Solid Waste
Comprehensive Procurement Guidelines
(www.epa.gov/cpg)

Recycled Products Database
(www.ciwmb.ca.gov/RCP)

Recycled Paper Coalition
(www.papercoalition.org)

Conservatree
(www.conservatree.com)

ForestEthics
(www.forestethics.org/purchasing)

Center For a New American Dream
(www.newdream.org/procure)


---
We're Here To Help
We'd love to hear from you, so please feel free to contact us with any questions at all. 1-800-694-8355.